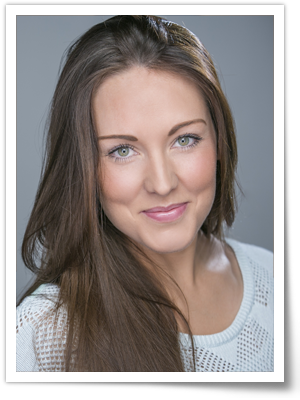 Hi there and welcome to my website! My name is Lucy Wall and I'm originally from Motherwell in Scotland where I grew up with my sister Ashley and my Mum and Dad. I now live in London with my husband Jan and we've been married since 2009.
I moved to London after finishing High School and spent three years training on a Musical Theatre course at Arts Educational Schools in Chiswick. After graduating I went on a U.K and International tour with the show "Oh! What A Night" where I played the lead role "Cat." I then toured with the show "Chicago" playing the role of "Kitty" and understudying the leads "Velma Kelly" and "Mamma Morton."
It was in 2005 that I started my first West End job as an ensemble member in the show "Fame" and understudied the roles "Carmen," "Miss Bell" and "Mabel" before going on to play the lead role of "Carmen" full time. In 2006 I then went back into "Chicago," this time in the West End and playing the character "June." In 2007 I joined the West End cast of "Mamma Mia" and played the role of "Ali." I was also given the wonderful opportunity of promoting the show in places such as Kuala Lumpur, Paris, Milan and Belgium.
In 2009 I became part of the original West End cast of "Legally Blonde." I performed as a swing and understudy to the lead roles "Serena" and "Margot" for the first two years. This meant I covered eight people in total and subsequently was kept very busy indeed, sometimes playing several people's characters within the same show!
It was a wonderful experience being part of an original production and we had the honour of winning several awards in our first year alone, one of them even being an Olivier! In October 2011 I took on the character of "Serena" full time and finished playing this role when the show closed on April 7th 2012.
In July of 2012 I joined the West End Show "Matilda" playing the role of "The Acrobat" and understudying the lead roles of "Mrs Phelps" and "Miss Honey." In 2015 I worked on a new theatre project called "Kingmaker" which took a satirical look at the world of politics.
I went on to enjoy a U.K and Ireland tour over 2017 and 2018 playing the role of "Sister Berthe" and understudying "Baroness Elsa" in the well known musical "The Sound of Music." I then had a great time being a part of the "Mamma Mia" family again, this time playing the role of "Tanya" for a live cinematic event for the film in Abu Dhabi. I had a great time reprising the role of "Sister Berthe" over Christmas and New Year for a different production of "The Sound Of Music," this time in Cyprus before performing once again in Abu Dhabi as part of an immersive drama at The Louvre. I then went on to perform in Belfast and Bristol to help raise money for the Tearfund charity before enjoying a third trip to Abu Dhabi to play "Tanya" once again for Mamma Mia 2 fun!
I had a great time being a part of The Dynamos World Tour group in September 2019 which meant I got to perform Abba songs once again before heading off to Dubai where I was a lead vocalist for a production called "A Night At The Theatre." I took on some challenging tracks from Musicals such as Les Miserables, Dream Girls and The Greatest Showman, my favourite being the wonderful song called "This Is Me!"
I was performing in the 2020 Tearfund Tour, raising money again for this wonderful charity to help improve the lives of our Brothers and Sisters in Christ in Uganda until the Tour had to be postponed due to the Covid-19 Pandemic.
I enjoyed performing in a play called "Hear Me Out" in the lead up to Christmas 2021 and I'm now enjoying being back on the road with the Tearfund Tour! I'm also looking forward to performing the role of "Annie" at the Edinburgh Fringe in August with a play called "Do I?"
I've added a Vocal Reel to this website which you can view below if you wish to hear some well known show tunes! I hope you enjoy the selection of videos under my stage name "Lucy Miller" and also the sight of me in a padded suit for the role of "Lettie Lutz" from The Greatest Showman!
The reason for this website however is not for the performer in me but rather the hopeful poet! I enjoyed writing poetry as a young girl but pretty much forgot about it for many years of my life. It wasn't until I gave my heart to Jesus Christ in 2006 that I was reminded by Him that it was something I liked to do. The difference now however was that I found myself writing about Jesus and feeling inspired by Him and the different events that He has permitted into my life.
I find writing poetry as a wonderful outlet and method for gathering my thoughts and feelings towards different circumstances in life and I love writing as I feel it's time I get to spend connecting with my Saviour.
My main desire is to share the wonderful, soul-saving truth of the Gospel of Jesus Christ. I think Ephesians 3:14-21 says it superbly:
"For this reason I bow my knees to the Father of our Lord Jesus Christ, from whom the whole family in heaven and earth is named, that He would grant you, according to the riches of His glory, to be strengthened with might through His Spirit in the inner man, that Christ may dwell in your hearts through faith; that you, being rooted and grounded in love, may be able to comprehend with all the saints what is the width and length and depth and height- to know the love of Christ which passes knowledge; that you may be filled with all the fullness of God. Now to Him who is able to do exceedingly abundantly above all that we ask or think, according to the power that works in us, to Him be glory in the church by Christ Jesus to all generations, forever and ever. Amen."
PS I've decided to add a new page to my website for 2021 and this page will be called "Capturing The Moment." You'll see the tab on the top right when you look at the main feed. The poems you'll find under this label are my non faith-based poems which I've written over the years. They vary in topic and are often based on simple observations or have been written to help celebrate a special event such as a Birthday or Anniversary. Many are written for children and take a look at the natural world.
As with my other poems, each comes with it's own video for those who prefer to listen! I hope these poems can bring you joy and a little smile to your day!